In our opinion, solid values are a foundation of a well-operating company.
Poznańskie Zakłady Zielarskie Herbapol is/form one of the oldest and the most renowned manufacturers of herbal products in Poland. For years, we have been producing medicinal products, dietary supplements, and cosmetics, enjoying the great trust of our customers.
We combine many years of tradition with a modern approach. Responding to the needs of patients and challenges of the contemporary medicine,
we continuously expand our knowledge and skills, conducting research and development activities and improving the qualifications of our employees.
All these efforts aim at creating, with the assistance offered by Nature itself, unique herbal products naturally supporting patients' health. Because we put health first above all else!
1869
The pharmacist Roman Barcikowski established a beauty shop at today's Paderewski street in Poznań. His operations were expanded quickly. New beauty shops were established, followed by wholesale facilities for pharmaceutical and beauty products.

1901
The Company is moved to a newly purchased lot, between today's Towarowa and Składowa streets.

1919
The company was transformed into "R. Barcikowski" joint-stock company. A chemical and pharmaceutical production department was added to the wholesale facilities.

1919 - 1939
"R. Barcikowski" becomes the most important pharmaceutical plant in Wielkopolska, and one of the 10 largest in Poland. The export of herbs was expanded. Since 1932, company products have been sold under the ERBE brand. The Company presented its products at international fairs in Paris and Liege (Gold Medal, Grand Prix) and in New York.

1945 -1950
Until 1950, the company had operated as a private entity, and its turnover had gradually increased - as much as two and a half times in the period of 1946–1949.

1952 -1961
The first two of the products well known to this date were launched – the cough syrup Tussipect, and coated tablets for constipation, Alax.

1961 - 1994
The Company Poznańskie Zakłady Zielarskie "Herbapol" S.A. is established. During the next twenty years, such popular products like Neo-Capsiderm appeared. In 1980–1990, in. Urosept, Poldanen, Arcalen, Mucosit, Rutoven and Sylimarol were developed.

1994
PZZ Herbapol took its present form of an employee-owned joint stock company.

2019
The company celebrates the 150th anniversary of its establishment.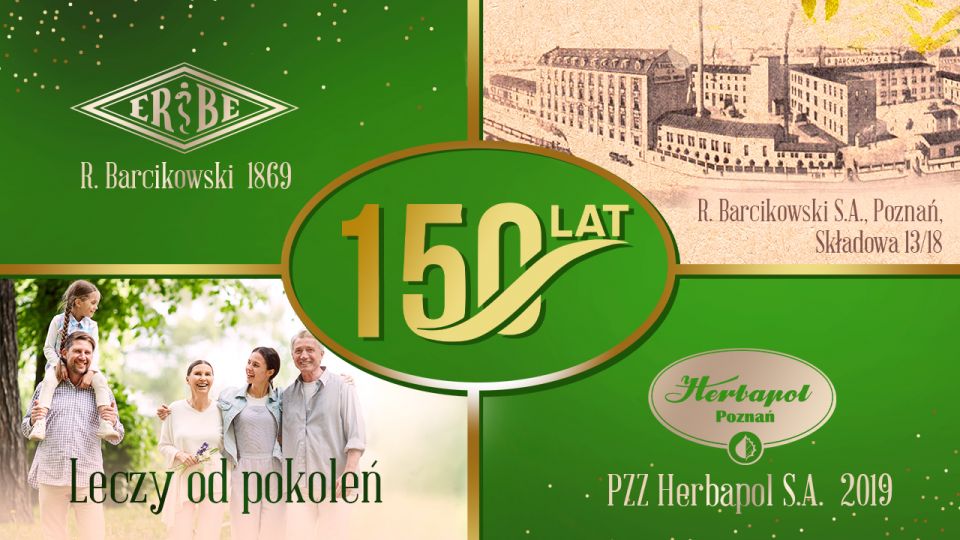 This year we celebrate the 150th anniversary of Poznańskie Zakłady Zielarskie "Herbapol". 150 years ago, in 1869, the pharmacist Roman Barcikowski opened a beauty shop in the Poznań Bazaar. His operations expanded very quickly, with new beauty shops, a wholesale facility, a herb collection point, and a chemical and pharmaceutical plant opened. Since the 19th century, many things have changed; however, our passion, professionalism and commitment have remained the same. We are proud of our rich history and happy to be in your homes for 150 years.
Our employees are, first of all, great people, who undertake various initiatives together. We like to spend time together, not only at the company team building events, but also after hours. Our football team, for instance, not only keenly practices and looks after the health of its members, but also supports those fighting for their health. Heerbapol Poznań football players have already participated in a charity football tournament supporting the "Rak Off" (Cancer Off) Foundation. Furthermore, each year our employees are involved in the "Szlachetna Paczka" action, helping families requiring assistance. We believe that nothing is impossible for us, and good relations are a foundation for the creation of a good place of work.